Mike Wall is the author of the following books: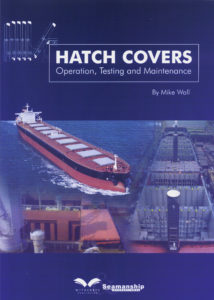 'Hatch Covers – Operation, Testing and Maintenance' by Mike Wall. Published 2008 by Witherby Seamanship International. ISBN 13: 978 1 85609344 6. Cost £75 + P&P.
Seen by many to be the 'bible' on hatch covers.
***********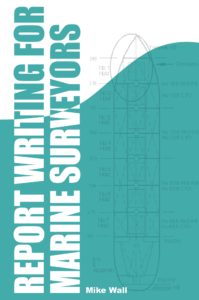 'Report Writing for Marine Surveyors' by Mike Wall. Published February 2011 by Petrospot. ISBN: 978-0-9548097-7-5 Available from www.petrospot.com/books. Cost £75 + P&P.  Also available from the author.
Reviews:
"This is a very well laid out and presented text on marine surveying with an excellent set of examples and illustrations. It is very detailed on reporting and text choices whilst being technically detailed with respect to English grammar, font selection, etc, which may confuse the average marine surveyor whose first language is not English. Overall, a text book I would put in our library as a reference work for our surveyors."
Paul Thomas, March 2010.
"Half of the work carried out by marine surveyors is report writing and, as Mike Wall makes clear in his introduction, a quality report is both legally and commercially critical. This 320 page guide to writing a good report is a welcome addition.
One might question how 320 pages worth of guidance is required but It soon becomes clear that writing the report is just the tip of a very big iceberg that includes evidence gathering, interviewing skills and legal knowledge.
Mike Wall, a chief engineer who taught at Warsash before becoming a surveyor, is well placed to produce such a guide, and he explains the subjects with admirable clarity, with some particularly handy hints on writing and presentational style, as well as guidance on producing diagrams. He describes the wide range of different reports that surveyors may have to produce and explains the potentially complex issues around discovery, evidence, protocols and terms and conditions of service.
With the downturn in officer training during the 1980s and 90s now creating a shortage of marine surveyors, this book will serve as a good foundation for those coming into the market, and the extensive set of survey report templates included as appendices will provide a solid framework in which to develop their skills."
Nautilus Telegraph, March 2011
"Marine surveyors/reviewers have described this as a 'must have' book on their shelves, ideal to help a new surveyor learn his craft with some useful tips for more experienced surveyors.
Twelve full specimen reports are included in the appendices which survey companies will find of use. Microsoft Word templates in .rtf format are available of these reports to those who purchase the book from the publishers."
"I refer to the 'Report writing for marine surveyors' book frequently. In fact reach for it more now, than I did when I first got it. It is an excellent primer on surveying, with an abundance of templates, and a fair number of examples of issues that a surveyor may encounter. It is a relatively small book that fits in a rucksack or a laptop bag, and you will find it dog eared after a period of time. I consider it part of my kit, along with flashlights, a tape measure, calipers, a metric/SAE ruler, a camera and what ever gauges might be necessary. I highly recommend the book."
Will Naden, Cabras, Island Marine Services, Guam, October 2014
***********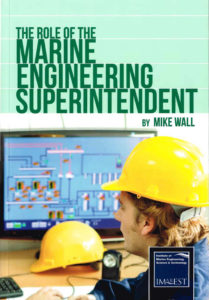 'The role of the marine technical superintendent' by Mike Wall. Published June 2014 by IMarEST. ISBN: 978-0-9565600-6-3. Cost £25 + P&P.
***********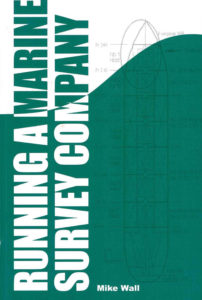 'Running a Successful Marine Survey Company' by Mike Wall. Published by Petrospot, published late January 2015. ISBN: 978-1-908663-20-7 Available from www.petrospot.com/books. Cost £75 + P&P. Also available from the author.
Reviews:
"Setting up a marine survey company is a very popular career choice for seafarers looking to work ashore. There are many who have made the move successfully, but there are also many who can tell you that it is not an easy transition. Mike Wall made the move after a seagoing career that took him to the rank of chief engineer, as well as time as a senior lecturer at Warsash and as a superintendent with a UK coastal shipping company.
He now has almost 30 years of survey experience, and as well as developing ship survey training courses, he wrote the excellent book Report Writing for Marine Surveyors, published by Petrospot in 2011. With his new title, he starts from the basics – explaining the role of the marine surveyor, the different types of survey work, and the ways to achieve professional standing in an occupation which presently lacks any requirements for formal qualification.
Well structured, the book is written with admirable clarity and has high presentational standards, with lots of handy charts and tables, as well as specimen forms. Mr Wall explains the differences between being a 'generalist' and specialist surveyor, and the different routes for training and career development.
There's some particularly good advice on how to set up a company and, for those who are successful, how to be an employer. It's also hard to think of any element of the operational aspects of marine surveying that is neglected in the book, with sections on such issues as quality assurance, risk assessment, time management, filing and archiving systems, marketing, client relations, ethics and codes of conduct, invoicing and debt collection.
Mr Wall has produced what is sure to serve as the essential guide for seafarers looking to move into surveying. And, in fact, there's so much of value in his book that it would also serve as a useful general guide for anyone thinking of setting up in business."
Nautilus Telegraph, August 2015.
"For those who really want to know what it is like to start a business from scratch, as a Marine Surveyor this is essential reading. For those who are already Marine Surveyors but who still wonder why the competition is doing better than they are, this is essential reading. For those who are already successfully running a Marine Surveying business this is essential reading because it is a reality check for all. Mike tackles all of the difficult areas such as ethics, sales, conduct and time management head on with advice collected from the experience of having been there.
For anyone involved in our business this book has been long overdue."
Ian Biles, August 2015
"I have read Mike's book several times and think it an excellent work and ideal for anybody starting out from the beginning and also equally highly suitable for an experienced surveyor who wants to expand or improve his business. I found the sections on training, experience and how to start particularly interesting.
Also of great use was the section on finances – usually the bugbear that many  otherwise competent people find the most difficult to control and understand. The book gives the reader a good understanding of the pros and cons of that aspect of the profession and enables him or her to know about and understand the difficulties before launching into the deep.
I would certainly recommend the book to anybody considering starting his or her own marine surveying company and I think that it fills a large gap in the literature on marine surveying."
Jeoffrey Casciani-Wood
***********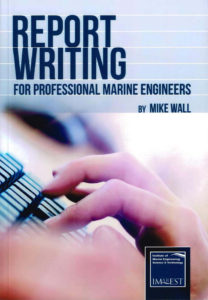 'Report Writing for Professional Marine Engineers' by Mike Wall. Published Nov 2014 by IMarEST. ISBN: 978-0-9565600-5-6. Cost £25 + P&P.
***********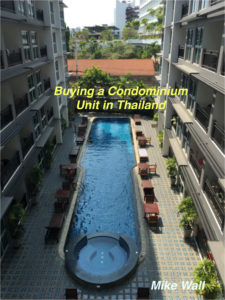 'Buying a Condominium Unit in Thailand' by Mike Wall. Published in Dec 2016 by the author. Cost US$9.99 + P&P from the author.
***********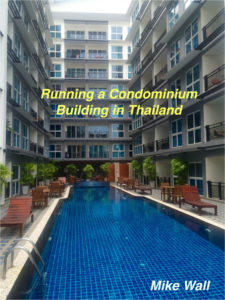 'Running a Condominium Building in Thailand' by Mike Wall. Published in Dec 2016 by the author. Cost US$9.99 + P&P from the author.
***********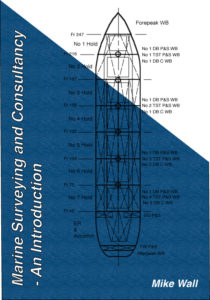 'Marine Surveying and Consultancy – An Introduction' by Mike Wall, published Jan 2017 by the author. Cost US$99 + P&P.
ISBN: 9-78-616-429-228-4.
Synopsis
Having been an independent marine surveyor and consultant for many years the book is based on the author's experiences. It is primarily aimed at those wishing to become independent marine surveyors and consultants. It covers many aspects of their work with some covered in depth.
Marine surveys are of two types, proactive and reactive. In the former the surveyor inspects a vessel before a voyage or activity to ensure that it meets relevant requirements, standards and/or international conventions. A reactive survey is carried out after an event or incident. The former tend to be carried out by marine surveyors whilst the latter tend to involve an opinion from a marine consultant.
The book contributes to the debate on the differences between marine surveying and marine consultancy. It covers different types of marine survey and marine consultancy assignment including hull damage, explosions, fire, pollution, sinkings, salvage and bunker disputes. Collisions, cargo disputes, crew injury and machinery failure are also covered with several examples.
Many marine consultants also aspire to becoming marine accident investigators and expert witnesses. These two areas are covered in detail, dealing with lawyers, going into court, and working with other experts and subcontractors.
The lack of awareness of our industry also extends to that of the marine/consultant, often being mistaken for marine biologists. Consequently. it takes time to explain the roles to the layman. When it is explained the response is often "That must be a really interesting job." Hopefully, you will agree after reading this book.
Foreword by Captain Barry Thompson:
As a glance at the contents page will indicate, this book covers many aspects of the work of marine surveyors and consultants. Most of the subjects Mike has included have been covered in quite some depth, especially when referring to the role of consultants but these are helpful to surveyors too. Indeed, many surveyors are aspiring consultants.
Although Mike states in his preface that the content of the book "are purely the opinion of the author" I have to acknowledge that I agree with almost all of them. I believe he has done a service to our profession by passing on the results of his wide experience.
Captain C.B.Thompson
RD  FNI  Hon.FIIMS
*******
Nautilus Telegraph, April 2017
With 30 years of service as a marine surveyor and consultant, including commercial and public sector work, former chief engineer officer Mike Wall is well placed to produce these guides for those considering following in his footsteps.
With extensive experience of producing training materials, he also has the knack of making stuff simple, and he does this to good effect here. With carefully crafted text, he explains everything right from the basics without sacrificing interest or appearing patronising.
There are many types of surveyor, and both guides go into the complex nature of the profession and the special skills and experience demanded by the different disciplines, as well as the fuzzy dividing lines between some of them. Wall provides lots of useful tips about how to get started, set operating principles and manage your finances. He also offers advice on how to make the transition from marine surveyor to marine consultant, or how to specialise in accident investigation and expert witness work.
Available from the author.
***********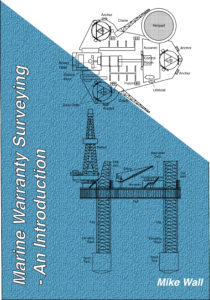 'Marine Warranty Surveying – An Introduction' by Mike Wall, published Jan 2017 by the author. Cost US$99 + P&P. Available from the author.
ISBN: 978-616-429-215-4
Synopsis
The book is intended for those considering entering the marine warranty surveying discipline of marine surveying. It introduces prospective marine warranty surveyor (MWS) to the wide variety of work available.
Marine operations are still of higher risk to underwriters, who, not having this expertise, need appropriate technical support to assess the risks. This involves the services of an additional independent third party specialist. The MWS is the eyes and ears of the underwriter and claims adjuster. His role is to assess risk by reviewing the technical and operational aspects of a marine project on their behalf, the ultimate aim being the issue of a certificate of approval.
The book deals with the various types of warranty survey and the role of the MWS, including:
The various types of warranty and legal aspects.
The London market joint committees.
Codes of practice and Scope of Work.
Required outcomes.
Surveyors' liability.
Port risk surveys.
Lay-up and reactivation surveys.
Tow approvals.
Stowage of deck and project cargoes.
Port and terminal surveys.
Shipyard risk assessments.
Warranties in the offshore sector including mooring, anchor spreads, rig lay-ups and wind farm operations.
It is hoped that the book will be a tool for training and a reference source for the new and experienced Marine Warranty Surveyor.
Foreword by Steve Weiss:
Mike's book brings an understanding of the complexities and the variety of experience and training that an MWS must have to practice in the field.  He combines the practical – recommended procedures, list of guidelines necessary to fully practice that are, I think, meant to complement a seaman's skills.
Like his report writing book before, it is a practical guide that, while it can point you down the path, requires practical application in Marine Surveying to have its full effect. Marine Warranty Surveying especially takes experience, mentorship, and a good level head to be successful in the field. It also requires the ability to put that field experience on paper in a way that is understandable and easy to read. The combination of the right experience and the ability to write, make the two books of Mike's useful tools.
Mike has done an exceptional job in putting words together to describe a complex subject.  I look forward to the publishing of the book with its future use in the industry as a tool for training and a reference source for the new and experienced Marine Warranty Surveyor.
Steven Weiss, CPCU, AMIM, NAMS-CMS
Senior Vice President – Marine
Aspen Insurance
Houston, Texas
******
Nautilus Telegraph, April 2017
The warranty surveying title delivers great insight into the remarkable range of this particular role, with some fascinating background about the evolution of marine insurance and the many areas of overlap between the warranty surveyor and other parties.
It also includes some important material about liability, standard of care, professional indemnity and terms and conditions of service.
Both books form part of a four-strong series covering all aspects of marine surveying, with the remaining volumes providing detailed advice on report writing and how to run a marine survey company. Well indexed and with glossaries of specialist terms and handy references for further reading, they provide the 'go-to' point for anyone thinking about making the move into this important area of the maritime profession.
******
Work Boat World, May 2017
Whilst his book may well be an 'introduction' Mike Wall needs no introduction here. He is undoubtedly the best known marine surveyor anywhere as well as being a prolific author of books about all kinds of technical marine subjects including surveying. He also co-incidentally authored a brilliant book on starting and managing a small business.
This book is rather more specialised than most but it describes a speciality that Mr Wall is particularly familiar with. That is a very complex and tricky aspect of marine surveying activity and one where surveyors work particularly closely with insurance underwriters.
According to London Offshore Consultants website a marine warranty surveyor 'provides independent third party technical review and approval of high value and/or high risk marine construction and transportation project operations…'. Essentially, here the author describes all that this summary entails.
He writes for the practical, professional reader in no-nonsense common sense terms. This provides both practitioners and their clients with most of what they need to know about this very important process.
***********
'Marine Cargo Surveying – An Introduction' by Mike Wall, shortly to be published by the author.  Cost US$99 + P&P. Available from the author.
Books published by the author may be ordered from: mikewallassociates@gmail.com