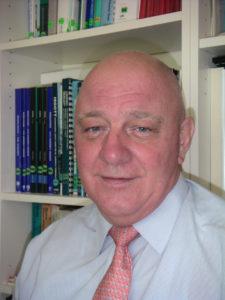 Managing Director and Principal Consultant, Mike Wall, joined Cunard Line as a marine engineer apprentice at the age of 17, eventually reaching the rank of Chief Engineer with service aboard many types of vessel and engine.
During his career Mike has obtained:
•  a First Class marine engineer's certificate of competency
•  Class 1 Hong Kong Local Master's Certificate
•  A Bachelor of Science in Nautical Studies
•  Master of Science degree in Shipping and Maritime Studies.
Experience has been gained in most areas of shipping with 8 years as a lecturer in Maritime Studies. This included 5 years as Senior Lecturer at Warsash College of Maritime Studies, UK. Time was also spent as a Superintendent with a UK coastal company. Since leaving full time education, Mike has continued to be a visiting lecturer at various establishments and regularly carries out training seminars for various shipping organisations.
Twenty five years experience has also been gained in hull, machinery and cargo surveying in the USA, New Zealand, Fiji and South East Asia. Most of this time was based in Hong Kong, providing a wide range of marine consultancy and surveying services to P&I Clubs, shipowners, ship managers, underwriters, admiralty lawyers and other principals. Mike is also a qualified mediator, being registered both in the UK and Hong Kong.
Mike has worked extensively in hull, machinery and cargo surveying in Europe, USA, New Zealand, Pacific Islands and East Asia. A total of more than 25 years surveying experience has been attained with a total of 44 years in shipping.  He is also a qualified and experienced mediator (QDR).
Mike is a regular contributor of shipping technical articles to various maritime publications. He is currently editor of FLASHLIGHT, the free emailed monthly newsletter, circulated to more than 3,000 marine surveyors and consultants around the world.
More recently, Mike has authored a total of 32 training modules for distance learning courses in marine superintendency, ship surveying, yacht & small craft surveying and ship building & repair for various organisations. These include:
•  The Australasian Institute of Marine Surveyors.
•  The International Institute of Marine Surveying
•  Lloyd's Maritime Academy.
• The Maritime Training Academy.
Mike has authored and is currently Course Director for the Lloyds Maritime Academy distance learning course on 'Marine Warranty Surveying' and  the 'Certificate in Marine Consultancy' course.  He continues to mentor marine surveying trainees.
He is a Fellow of the Institute of Marine Engineering, Science and Technology (IMarEST), Chartered Marine Technologist and is a qualified dispute resolver (QDR) having successfully concluded several mediations.
Mike has been an educationalist for more than 45 years.  He has continued to teach marine related subjects to various organisations, providing training courses and seminars around the world.
Mike has authored several shipping related books which are listed under the menu item 'Books'.
A more detailed CV is available upon request.